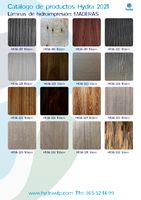 CATALOG hydroprinting sheets 2021
Download our 2021 hydroprinting sheet catalog for FREE
DOWNLOAD NOW
What is hydroprinting?
Hydroprinting, also called water transfer printing, hydrographics or hydrodipping, is a printing technique that consists of transferring a design printed on a polyvinyl alcohol sheet or support to different objects, thanks to the action of water, which exerts a necessary thrust to adhere the sheet to the object as it is submerged.
What services does Hydra Water Transfer Printing offer?
Hydra WTP offers all the services related to the hydroprinting technique:
1. Supply of materials through our online store.
2. Training courses for individuals and companies.
3. Supply of machinery for companies in sectors related to hydro-printing: Armories, Sheet Metal and Paint Workshops, manufacturers of products made of different materials: Plastics, Silicones, Rubber EVA, Wood, Metals, etc
4. Decoration of customer pieces using the Hydroprinting technique. Contact us to get your quote.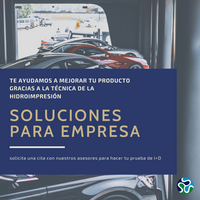 SOLUTIONS FOR BUSINESS
In Hydra Water Transfer Printing we offer solutions in everything related to the application of hydroprinting to all companies that are dedicated to the sectors related to the following materials: metal, plastics and wood.
Request an appointment with one of our technical advisors by filling out the following contact form and discover everything we can do for your company.
More information
HFC-125, the most realistic carbon fiber design for hydroprinting
This is the result when applying our design HFC-125 on a fender to which we have previously applied a black background. Do not forget to always apply a varnish, in this case we recommend applying the gloss varnish.
Do it yourself, with our Hydroprinting Kit
In our section of hydroprinting kits you can find the kit that best suits your needs: starter, beginner, professional , camouflage, carbon... Come in and find out which one is yours!
You can do homemade hydro-printing without having to invest in machinery. You just need a plastic container for example and one of our hydroprinting kit for beginners.
We will send you a manual included in the Starter Kit, but if you have problems or doubts you can contact us for help, or join our group from Facebook, so that other hydroprinting professionals can help you.
I WANT A STARTER KIT!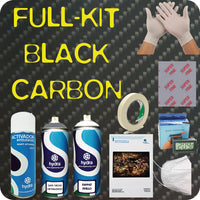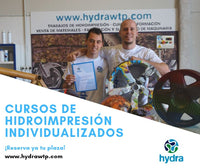 Hydroprinting courses in Alicante
Do you want to learn the hydroprinting technique? Learn from professionals in the sector the secrets of water printing, a profession that is on the rise and is more in demand every day. reserve your date now or call us 693 86 90 50 and we will inform you of the characteristics of the hydroprinting courses.
RESERVE YOUR DATE NOW
What do our customers think of HYdra wtp:
"Two pieces have been left as good as new, the price includes collection and return. At all times there has been great communication. I would definitely repeat"

Luis Victor Sanchez Recasens
"Very cool and professional work, 100% recommended"

Carles Escriva
"Incredible work and in many types of materials"

Ruben Gonzalez Brao
Location
We are a physical store. Come visit our Showroom
We are at
Calle Diagonal, n 17, local
03009, Alicante